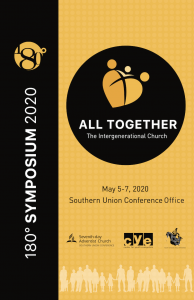 Due to recent developments related to the Coronavirus disease (COVID 19), the 180 Symposium originally planned for May 5-7, 2020 at the Southern Union Conference office, will be postponed until further notice.

Theme: All Together – The Intergenerational Church
Where: Southern Union Conference Office
The 180 Symposium addresses current issues facing youth ministries, while seeking to generate principles for effective and healthy change through moderated discussion between administrators, academics, and practitioners in youth ministry.
For information, contact Gerardo.