Trip Summary
Trip Dates: September 9-16, 2018
Home Port: Seattle, Washington
Ship:  Amsterdam
Ports: Juneau, Alaska; Sitka, Alaska; Ketchikan, Alaska; Victoria, British Columbia, Canada
Number on Trip: 33
Speaker: Damian Chandler
Mission Report
During the week of September 9-16, 2018, a group of over 30 cruisers boarded the Amsterdam ship of Holland America Cruise lines for the annual Cruise With a Mission effort. Cruise With a Mission is a ministry of the Center for Youth Evangelism at Andrews University. This particular ministry effort has been active since its inception in 2007 and is still going strong for the gospel of Jesus Christ.
This year's theme was World Changers, led by director, Rabel Ortiz. Participants, hailing from all over the United States, Canada, and even Australia, converged in Seattle, Washington to embark on a week-long adventure of outreach ministry in the local communities of Juneau, Sitka, and Ketchikan, Alaska. While at sea, the CWM cruisers participated in on-board activities, including nightly worship services, with guest speaker and past cruiser, Pastor Damian Chandler, senior pastor of Capital City Seventh-day Adventist Church in Sacramento, California.
On Tuesday, September 11, CWM cruisers convened in beautiful Juneau, Alaska to provide help at a local organization that provides shelter and life skills resources to victims of domestic violence. Much needed help included landscaping, treating wooden bannisters, and organizing supplies. Cruisers were happy to be of service to an initiative that is of critical service in its local community.
              On Thursday, September 13, CWM participants gathered in picturesque Sitka, Alaska to supply manpower at a national historic site—The Russian Bishop's House. There, cruisers helped prepare the site's garden for spring planting by turning soil, removing rocks and debris and adding fertilizer. This was an important task because these very gardens provide local children of that community with opportunities to learn about planting and harvesting foods that they can eat. Helpers got a chance to trek through a nearby national forest to the beach to collect seaweed and dead salmon, which are both used as natural fertilizer and mulch in that neck of the woods. Needless to say, the gardens are ready ahead of schedule for the children in the spring. One of the group's participants made front-page news in Sitka! In addition, a group of cruisers helped organize supplies at a local Salvation Army.
On Friday morning of September 14, cruisers walked from the ship to a nearby community youth initiative in breathtaking Ketchikan, Alaska. Here, participants were involved in helping restore and revitalize parts of a beautiful building dedicated to guiding and providing social, work, and life skills outlets and support for local young adults. Participants sanded, painted, and installed insulation as part of their contribution to a great work happening in that community. Several cruisers from this project were featured in the local Ketchikan newspaper.
On Saturday evening, September 15, cruisers enjoyed a much-needed break from their rigorous week's work by spending time in delightful Victoria, British Columbia, Canada. The city lights and cool temps at night were just what the doctor ordered—a perfect ending to an amazing ministry, worship, service, vacation experience!
Cruise With a Mission invites young adults from all over to join its ranks for its next adventure in the Caribbean scheduled for December 15-22, 2019. Come, be a part of changing our world for Christ! Visit www.cye.org/cwm for more information.
Featured Speaker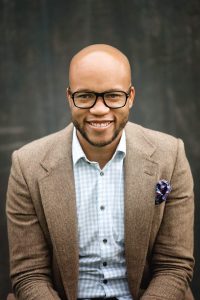 Pastor Damian Chandler was born in Toronto Canada and raised on the island of Barbados. His ministry journey started in a small church housed in the basement of his home. With only 9 members, the burden of the ministry fell equally on the shoulders of all, including this 16 year old teen. At night he could hear the prayers of these humble people rising through the vents into his room. That small church made a large deposit in the spiritual hunger of Pastor Chandler and stands as a turning point in his life and a foundation for his call to ministry.
He attended Oakwood College in Huntsville, AL and then later furthered his preparation by pursuing and attaining a Masters of Divinity degree from the Adventist Theological Seminary of Andrews University in Berrien Springs, Michigan.
His ministry journey has taken him across the length and breadth of America from Seattle Washington to Huntsville Alabama. In 2014 Pastor Chandler accepted a call to the Capitol City Seventh-day Adventist Church in Sacramento, California where he serves as senior pastor
This fall Damian's ministry takes yet another leap with the release of his first book The Crooked Christmas Tree by Faith Words Publishing. This truly contemporary parable speaks to the human need for grace and Gods unique ability to make crooked things beautiful.
Pastor Chandler is passionate about ministry, but he is even more passionate about family. After years of dedicated pursuit God gave him the desire of his heart and a partner in life, his wife Tanzy Chandler. They later expanded their tribe with the addition of their daughter Zoe, sons Salem and Levi.
---
Download the group photo here.
Download the 2018 On-Board Magazine here.