Trip Summary
Trip Dates: December 9-16, 2012
Home Port: Ft. Lauderdale, Florida
Ship: ms Nieuw Amsterdam
Ports: Half Moon Cay, Bahamas; Ocho Rios, Jamaica; Georgetown, Cayman Islands; Mahogany Bay, Honduras
Number on Trip: 73
Speaker: Ryan Simpson
Missions Report
On December 9, 2012, 73 from around the country joined together for the Center for Youth Evangelism's 5th Cruise with a Mission; in Fort Lauderdale, Florida.
Pastor Ryan Simpson joined the 2012 cruise and shared daily worship thoughts. Pastor Simpson's dynamic and personal messages encouraged young adults to get "On-board with God," despite the storms in our lives. Melody Ilacas, a young adult who attended the trip, commented that Pastor Simpson's messages "reminded us that storms help to build our character."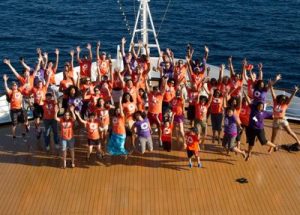 During the missions aspect of the trip cruisers were offered diverse opportunities. Mission ports included Ocho Rios, Jamaica, Georgetown, Cayman Islands, and Mohogony Bay, Honduras. This year the group brought 100 gallons of paint with for three painting projects. Others options at port included light construction projects, landscaping and clean-up, as well as a Vacation Bible School option.
Ocho Rios, Jamaica
Port Coordinator: Vern Byrd
Site 1: Steer Town Primary & Junior High Schoool
Site 2: Painting at a local church
Site 3: Painting at a local church
Site 4: Fix screen doors in local senior center's office, visit with the residents
Site 5: Conduct a Vacation Bible School at Ferngrove Adventist School
Georgetown, Cayman Islands
Port Coordinator: Laura Becker
Site 1: Grounds clean-up at Bonaventurie Boys' Home
Site 2: Help with building foundation for single mother's new home, curcurrently under construction.
Site 3: Assist daycare workers with children at NCVO's Miss Nadine's Pre-school, assist with projects at Pine's Retirement Home, Jack and Jill Nursery, and Thrift Shop
Site 4: Dental and anti-bullying seminars at Cayman Academy. Vacation Bible School
Site 5: Assist with West Bay Church, currently under construction
Mahogany Bay, Honduras
Port Coordinator: Randy Griffin
Site 1: Flower's Bay Church – Drywall work, painting, Vacation Bible School
Site 2: West End Church – Painting church and Sabbath School rooms
Site 3: French Harbor Elementary – Dental clinic
---
Our Speaker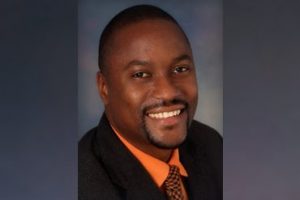 Pastor Ryan Simpson hails from the beautiful, tropical Island, of Jamaica. He is the first born of identical twins. He began his ministry in the Inter-American Division of Seventh-day Adventist. He served the East Jamaica Conference, for over seven years as Pastor, and then later as the Youth Ministries & Communication director. He has been serving in the North American Division of Seventh-day Adventists since October 2008. He started in the Bermuda Conference as Personal Ministries Director, and later as the Youth Ministries and Pathfinder Director. Currently he serves as the Associate Youth & Family Ministries Director for the Southern New England Conference, headquartered in Lancaster, Massachusetts.
Break-Out Presentations
In 2012, we had 3 break-out presentations:
Melody Ilacas
Fidi Mwero
Theresa Skipper presented "Called & Chosen: Daily Outreach"
---
Leadership Team
Fidi Mwero

Director

Shiprah Fepulea'l

Worship Director

Chris Swagerty

Dental Director

Jessica Lillie

Office Administration
Pastor Ron Whitehead

Executive Producer

Edward Teh

Assistant Director

Janelle Johnson

Community Building Director

Melody Ilacas

Marketing Director

Theresa Skipper

VBS Coordinator

Brian Syfert

Onboard Emcee

Richard Parke

Producer

Vern Byrd

Missions Director

Operations Manager

Melody Calla

Medical Director

Michael Smith

Onboard A/V Coordinator

Ron Herr

Finance Manager

James Ho

Photography Coordinator
Downloads
Download your copy of the group photo or view our 16-page, full-color, onboard magazine program.
---
Sponsors
Center for Youth Evangelism, Lake Union Conference of Seventh-day Adventists